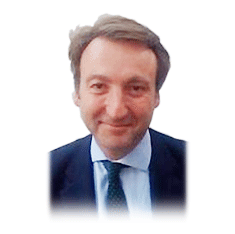 Nicolas Guyard
Nicolas is a UK-based French national and has worked in investment banking and capital markets for the past twenty years. He focuses on advisory and financial structuring mandates for French small and mid cap corporates and private equity investors seeking cross-border expansion and opportunities in the UK.
He began his career at Bankers Trust structuring derivatives for a variety of private and public sector clients until moving to the High Yield team, covering private equity funds and investors. In 1998, he joined CIBC as Managing Director, where he originated and structured transactions for private equity investee companies as well as quoted corporates across Europe and North America.  In 2003, Nicolas returned to Paris for two years as a Founder of Hermes Partners, an advisory firm targeting European mid-caps seeking strategic advice and financial structuring solutions. In 2005, he joined Natixis where he led the international expansion of the Private Equity Placement Team originating transactions from UK and Continental issuers and developing a distribution business in London for UK investors.
Nicolas graduated from l'Ecole des Hautes Etudes Commerciales ("HEC"), and has a BA in Philosophy from the Sorbonne.
Email: ang@noventuspartners.com